VIRTUAL ONLINE BIRTHDAY PARTIES
FROM CODO!
CODO ONLINE
BIRTHDAY PARTIES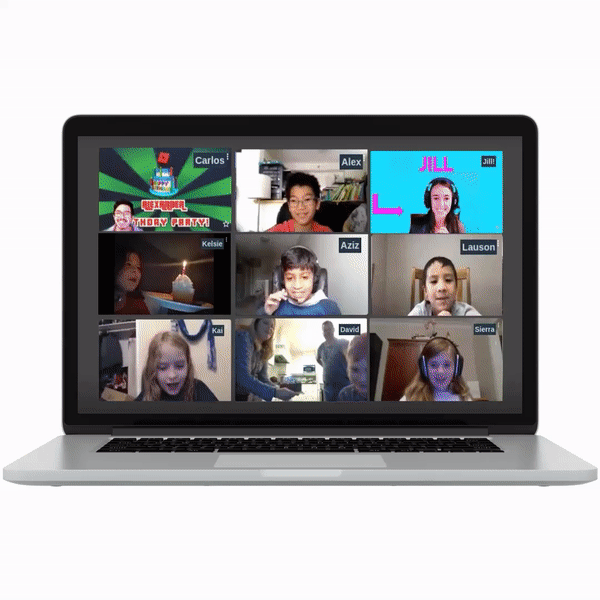 Birthday coming up?
Want to keep everyone safe while still having a great time?
Book a Roblox or Minecraft Online Birthday Party!
$169.99 + tax
2.5 hours long
Up to 10 kids (inc Birthday kid)
Hosted by an experienced Codo Host
Roblox or Minecraft Theme
Private and Secure (only your group!)
Want to Book a Birthday Party?
Just complete the form and we'll be in touch to set everything up!
VIRTUAL BIRTHDAY PARTY FAQ
How long is the party?
Each party is 2.5 hours in length and includes super fun activities in your choice of Minecraft or Roblox. We also do a fun Foodle (a creative food doodle!), and of course we sing Happy Birthday for our guest of honour!
How many people can I invite?
We can accommodate up to 10 players per party including the Birthday Person! We have this limit as many games we play limit the number of players we can have join us at one time.
What's the booking process?
Just fill out the form above and our team will be in touch ASAP to set up your super fun, super awesome party! We'll send you all the details and get you all the information you need prior to your party.
Who is counted as guests?
We count guests as each person who will be playing the games on our private and secure server with us! You can invite 10 players, including the Birthday Person!
What do I get for $169.99?
For $169.99 you are able to invite 10 players (including the birthday person) for a host led 2.5 hour party filled with either Minecraft or Roblox games, a foodle (a quick, creative break where we do a food related doodle), and the classic singing of Happy Birthday!
What kind of technology do my guests need?
The first 30 minutes of the party will be dedicated to make sure all the guests are connected and working. Please ensure that all guests perform the tech check prior to the party so they have more play time!
For Minecraft Parties your guests will need the following:
A PC, Mac or Chromebook with a mouse and webcam for Codo Basecamp (Our video chat system)
The device they place Minecraft Bedrock or Java Edition on (We can help you figure out which one you and your guests play on)
High Speed internet
Headphones/Headset (not required, but highly recommended)
For Roblox Parties your guests will need the following:
A PC, Mac or Chromebook with a mouse and webcam for Codo Basecamp (Our video chat system)
The device they place Roblox on (Computer, Phone, or Tablet)
High Speed internet
Headphones/Headset (not required, but highly recommended)